Have you ever longed to ride in a hot air balloon above the historic pyramids of Luxor? So now you can accomplish it! Join us on one of our Egypt Tours for an unforgettable experience as we soar through the air at dawn for a spectacular tour of some of the most famous structures in the world. You will see expansive vistas of the Valley of the Kings, the Temple of Karnak, and other sights on your Egypt Day tours. You may be confident that you are in safe hands with our skilled pilot at the controls. Why then are you still holding out? Now, reserve your early-morning balloon trip as part of one of our exclusive Luxor day tours !
What are sunrise balloon rides?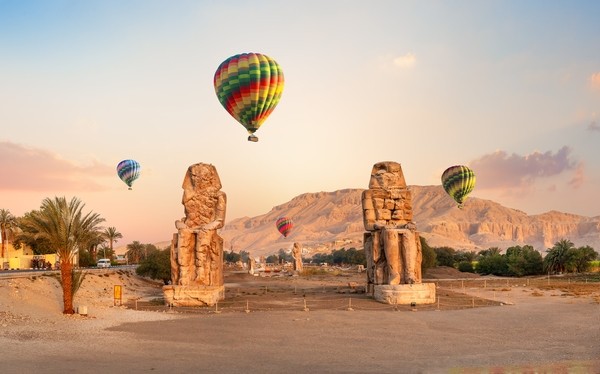 Sunrise balloon rides are a type of hot air ballooning that takes place during the early morning hours, just as the sun is rising. This time of day is often considered to be the best time for hot air ballooning, as the air is typically more stable and the weather is typically better than it is later in the day.
Sunrises in Luxor are truly magical experiences contained in our Egypt Travel package. Something about seeing the sun rise above the pyramids of the ancient Egyptians is simply unforgettable. It is best to take a hot air balloon ride to witness the sunrise over Luxor.
As you float gently above the ground, you will have unobstructed views of some of the most iconic sites in Egypt, including the Great Pyramids of Giza and the Hatshepsut temple. Seeing these historical wonders of Egypt from the air is a once-in-a-lifetime experience.
Early in the morning is normally when hot air balloon rides are available because the winds are quiet and the weather is great for flying. Your pilot will expertly navigate the balloon, so all you need to do is sit back and enjoy the ride.
After you finish your flight, head to the archaeological ancient Egyptian sites in Luxor, such as Luxor east bank and discover the Sound and light show at Karnak Temple.
How much does it cost?
The cost of a sunrise balloon ride in Luxor excursion varies depending on the company you book with, but typically starts around $200 per person. This includes the cost of the balloon itself, as well as the gas and crew needed to operate it. Some companies could tack on an extra fee for delivery to and pickup from your hotel.
What advantages do sunrise balloon trips offer?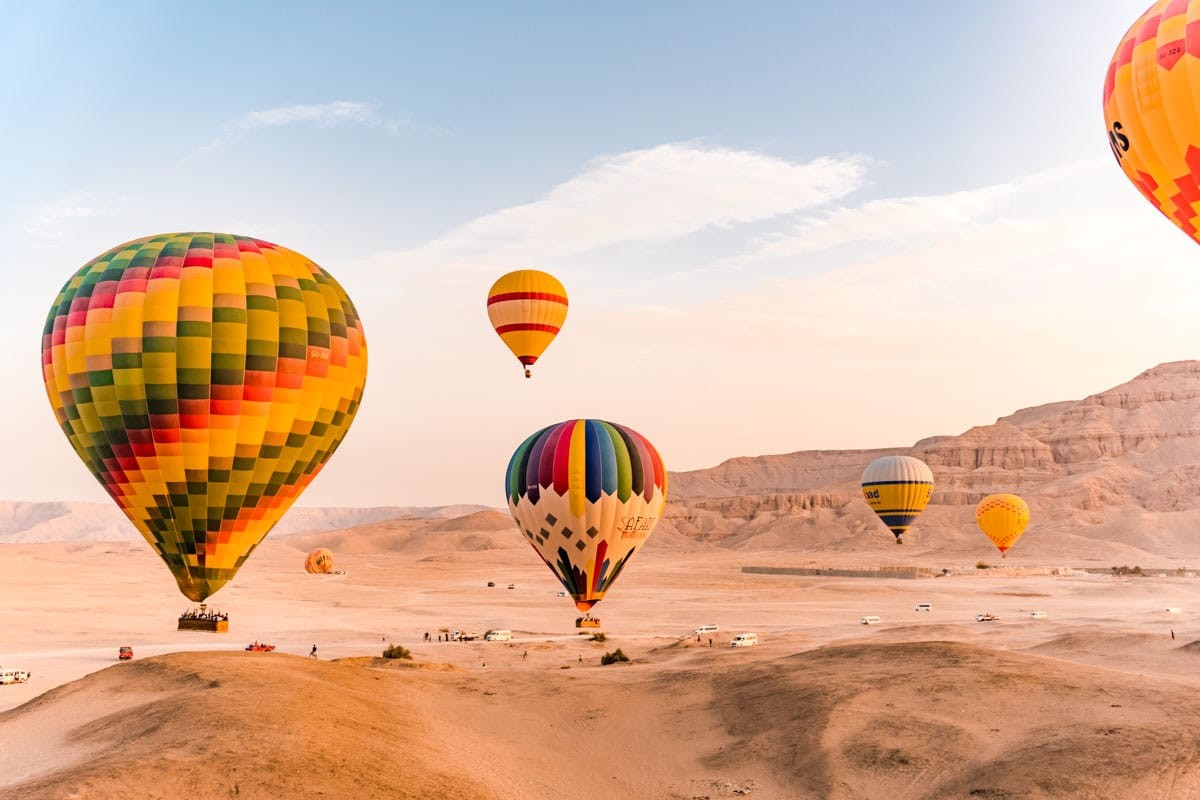 Our Egypt travel packages include sunrise balloon rides, which are highly useful. For starters, it is a very extraordinary and spectacular experience. Nothing compares to seeing the sun rising over Luxor's magnificent pyramids and historic monuments from a hot air balloon.
Sunrise balloon tours in Luxor not only provide amazing views but also a fantastic chance to experience an airborne Egypt luxury tour. All of the significant places and landmarks will be visible to you from a fresh angle. This is a terrific opportunity to visit some of the locations you would not have otherwise been able to see and to get a sense of how the city is laid up.
Last but not least, morning balloon flights are another fantastic way to begin your Luxor day tour. The Egypt classic tours start early enough for you to take advantage of all the sights and activities Luxor has to offer, but they finish late enough for you to avoid the heat of the noon sun. They are therefore ideal for those who want to get the most out of their time in Luxor without having to contend with large crowds or extreme heat.
How can a sunrise balloon ride be scheduled?
You must reserve a dawn balloon ride in Luxor if you are a family and want to take part in one of the most distinctive Egypt family tours that Egypt has to offer! Here is a step-by-step guide on how to do just that:
Step 1: Choose your tour operator
There are many different tour operators offering day hot air balloon rides in Luxor, so it's important to do your research and choose one that you feel comfortable with. Ask around for recommendations, read online reviews, and make sure that they are licensed and insured.
Step 2: Pick a date and time
Most balloon rides take place early in the morning, so you'll need to plan accordingly. Keep in mind that weather conditions can affect the availability of rides, so it's best to have a few dates in mind. Once you've chosen a date for your Egypt travel packages, contact the tour operator to make a reservation.
Step 3: Show up on time!
Make sure to arrive at the meeting point on time - usually about an hour before sunrise. The balloon will only be able to take off when there is enough light, so it's important not to miss your window, and that's it! Just follow these simple steps and you'll be floating above the ancient ruins of Luxor in no time and have a nice time on your Egypt trip. Keep up with any hot air balloon adventures by checking your Egypt tours blogs.