Discovering the Story of the Serapeum of Alexandria
The Temple of Serapis, also called the Serapeum of Alexandria, was a beautiful ancient building constructed in Alexandria, Egypt, during the Ptolemaic dynasty. Ptolemaic kings combined Greek and Egyptian gods to create the temple, which was built to commemorate the Serapis deity. A historical and cultural treasure until it was destroyed under the rule of Emperor Theodosius I, the Serapeum was famed for its magnificence and rare items, notably the renowned Serapeum library. Archaeologists and historians from all over the world have shown interest in and appreciation for the Serapeum remains because they have remained a mystery ever since.
The History of Serapeum of Alexandria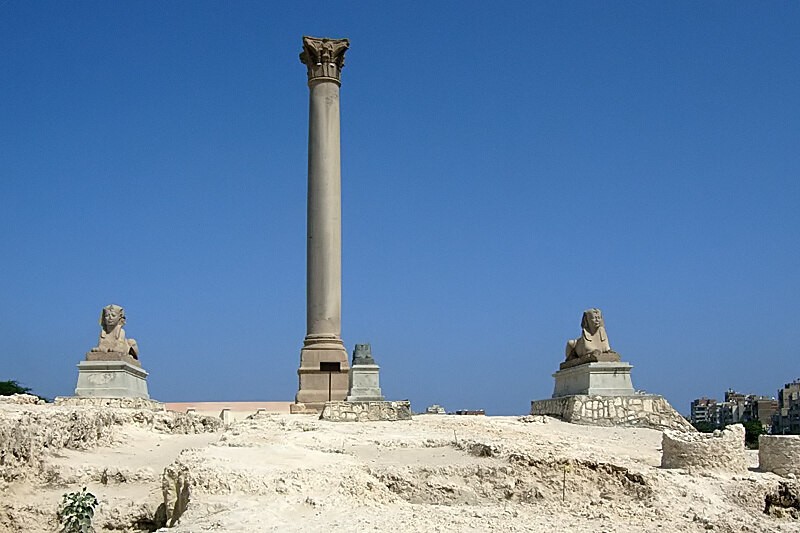 The renowned architect Deinocrates created the Serapeum, which was erected under the rule of Ptolemy III Euergetes in the third century BC. The temple was built in honour of the recently invented god Serapis, who was a hybrid of the Greek god Zeus and the Egyptian god Osiris. It was built on a hill in the middle of Alexandria, offering a picturesque vista over the city and the Mediterranean Sea.
The Serapeum was important to Alexandria's cultural life in addition to its religious significance. This large library that was housed in the temple was comparable in size and significance to the Library of Alexandria. Ancient Egyptian writings, Greek philosophy, and scientific treatises were among the many volumes, manuscripts, and texts that made up the Serapeum library.
Moreover, the Serapeum developed into a well-known pilgrimage site that drew tourists from all around the Mediterranean. The temple's architecture combined Greek and Egyptian design elements, which attracted tourists even more.