FAIENCE Its original name, Tjehnet, means "That which is dazzling" in Egyptian. Egyptian artisans may have believed they had received a gift from the gods when they learned how to make faience. One of the most exquisite and highly treasured ceramics from antiquity is faience, which is pronounced fay-ahns.
Faience was widely employed by the Egyptians for everything, including beads, amulets, ushabtis, sistra, cups, vases, bowls, figurines, and furniture inlays with beautiful patterns. While the main components water and sand are everyday items in Egypt, the finished result was pure enchantment, almost like an alchemy process that turned ordinary substances into vivid hues.
The vivid blue and green hues were the most popular because they resembled lapis lazuli and turquoise, semiprecious stones that have been used since ancient times and are said to have magical properties. The rooms under the Step Pyramid of Zoser include one of the oldest instances of large-scale faience usage. There are linings of This 412 inch tall blue faience hippopotamus is embellished with aquatic flora that thrived in the marshy regions near the Nile. The hippopotamus, which was found in a Twelfth Dynasty nobleman's tomb, is now on display at the Metropolitan Museum of Art in New York City.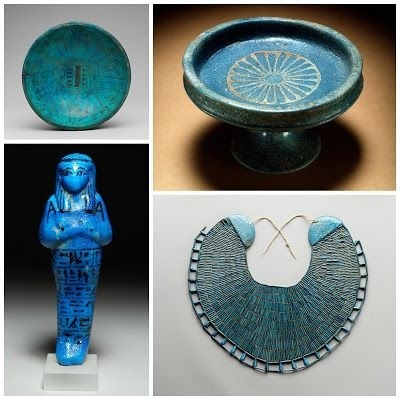 Around two by four-inch light green faience tiles in their hundreds. Ground quartz or sand with a high quartz concentration, a little lime or natron, and water are the main ingredients in faience. Depending on the pigment added to the paste, different colours can be created.
Terra-cotta moulds are used to press faience into. Many moulds of various forms number in the thousands. The glaze migrates to the surface of the faience during kiln firing, giving a vividly coloured, glassy surface. Given the low cost of production and the abundance of faience artefacts discovered, it appears that the majority of Egyptians kept a protection amulet, lucky charm, or sculptures of their favourite gods in their homes. Each year, tens of thousands of faience statues of the gods were produced as votive gifts for the temples. Amulets made of faience were designed to be worn by the living as well as to decorate and guard the dead.