Info about Egyptian sarcophagus
Ancient Egyptian mummies were safeguarded in Egyptian sarcophagus coffins, a particular style of coffin. Intricate carvings, paintings, and inscriptions are used to embellish these structures, which are built of a variety of materials including stone, wood, and clay. If you are a fan of history and have passion to discover the monuments of ancient Egypt, book our Egypt tours to Luxor. Because this city is covered in Egyptian monuments and history of Egyptian pharaohs. An intriguing and enigmatic item of the ancient world with a history that spans thousands of years is the Egyptian sarcophagus. The qualities, function, and details of the ancient Egyptian sarcophagus will be examined in more detail in this blog.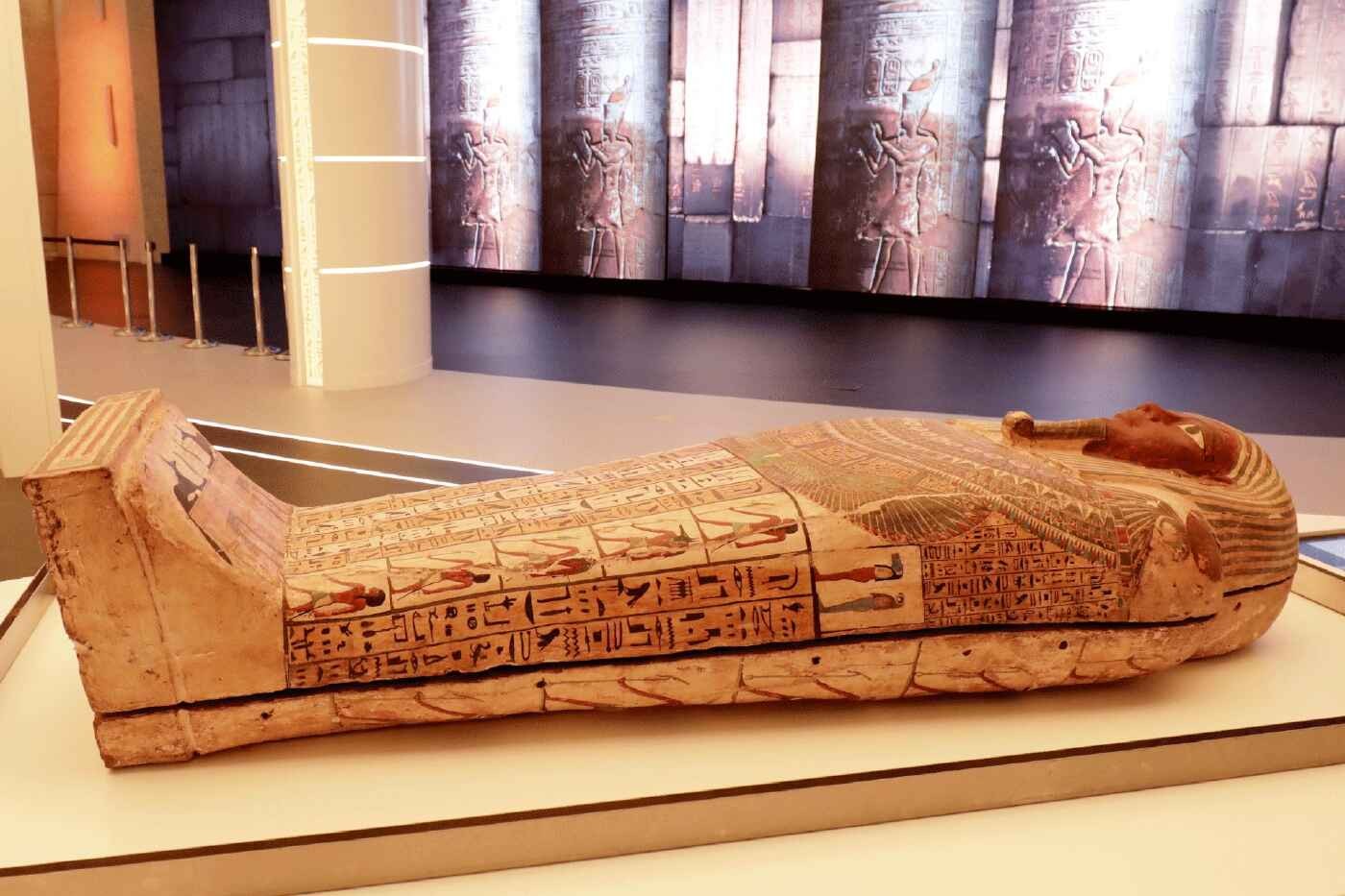 1- Features of Egyptian Sarcophagi
Egyptian sarcophagi were created to safeguard and preserve the corpse of the departed for the afterlife that you will discover during your Egypt day tours. They were occasionally built of wood and frequently made of stone, such as granite or basalt. A sarcophagus's lid was frequently embellished with ornate carvings, paintings, and inscriptions. A mask that represented the deceased's face was sometimes put over the mummy's head in sarcophagi. These masks were frequently embellished with elaborate jewelry and fashioned of gold or other priceless materials. If you want to discover Egyptian Sarcophagi in real life, there are many places you Can enjoy such as you can head to Cairo day tours to visit the Sarcophagi of king Khuku.
2- Egyptian Sarcophagus Facts
King Tutankhamun's Sarcophagus, also known as the "King Tut" Sarcophagus, existed in the Valley of the Kings that was included in our Luxor day tours in 1922 and is one of the most famous sarcophagi. You will use your time in Luxor and take a day tour of the Luxor East bank, you will be entertained by Karnak temple and Luxor temple.
Some sarcophagi were made to be buried beside the body, while others were made to be on display in the tomb.
While some sarcophagi were made to be opened and closed, others were sealed so that they would remain closed indefinitely.
The departed had to journey to their final resting place in a sarcophagus, in accordance with ancient Egyptian religion. Egyptian Sarcophagus is spread in a lot of attractions in Egypt that are included in our Egypt travel packages such as Saqqara, you can book in Saqqara, Memphis and pyramids, you will discover many secrets about ancient Egypt.
3- What Separates a Sarcophagus from a Tomb:
In contrast to a sarcophagus, which is a form of coffin intended to shelter the body of the deceased, a tomb is a site where the dead are interred. Multiple sarcophagi can be found inside the tomb that you will discover during your Egypt Classic tours, which is often composed of stone. The sarcophagus, on the other hand, is often positioned within the tomb and is made to protect the specific mummy.
4- Egyptian sarcophagi serve a variety of purposes.
Keeping the corpse of the departed safe and preserved for the afterlife was the goal of the Egyptian sarcophagus. In order for the soul to reach its last resting place, it was thought that the body had to be kept. During our Egypt Cultural tours you will discover many interesting Egyptian mythology stories. So if you are interested, book our Aswan day tours to visit Edfu temple and discover the story of eternal love between Isis and Oasiris.
5- Most Notable Sarcophagi:
The King Tutankhamun Sarcophagus, which was uncovered in the Valley of the Kings in 1922, is the most well-known sarcophagus. This solid-gold coffin was decorated with elaborate carvings and inscriptions. Today, it ranks among the most renowned and priceless relics in existence that you can discover during Egypt budget tours.
6- Who was inside the final sarcophagus?
The identity of the final sarcophagus' occupant remains unknown. As Egypt's civilization waned, so did the usage of sarcophagi, and finally mummification as a method of embalming people was completely abandoned. All this historical information will be relevant and Clear during Egypt Easter tours.
7- How many Egyptian Sarcophagi have been discovered?
Although it is impossible to pinpoint the precise number of Egyptian sarcophagi that have been unearthed, it is thought that thousands have been uncovered over time. There are still numerous sarcophagi in museums that you will visit during Egypt trips and private collections across the world despite the fact that many have been stolen, destroyed, or lost to time. The number of known sarcophagi is always increasing as fresh finds are found all the time.
If you want to understand more about the ancient Egyptian sarcophagus, try Egypt sightseeing tours to discover some of the many spectacular tombs and sarcophagi that have been unearthed there. Leading travel provider Your Egypt Tours provides a variety of tours and packages to Egypt, including excursions to ancient Egyptian tombs and sarcophagi. Get in touch with us right now to find out more about our trips and to reserve your trip to Egypt!