Ancient Egyptian Cosmetics
The Egyptians, very early on, developed a wide variety of products, ointments, oils, aromatic oils, and lotions such as soda ash lotion, kohl, and eye drops, several examples of make-up palettes dating from the 4th century. If you are an educated and curious person and you are looking for secrets in the life of the ancient pharaohs, from a way of life to their pride, I advise you to join our Egypt tours.
The Egyptians of antiquity used many cosmetic products that you will discover during Egypt travel packages, for medicinal, therapeutic, and aesthetic reasons. This is what became clear to us when we discovered the tombs in which we found the papyri that indicate this, and that you will see part of it during Egypt day tours. Also, enhancing one's looks had a spiritual and holy significance in ancient Egypt. it was necessary to maintain, preserve and care for one's body to reach the house of eternity.
A millennium before, cosmetics were not only intended for make-up but also for votive use, as part of the worship of deities or the commemoration of the dead, as evidenced by the Narmer palette. In the ancient period, it was a form of sacred preparation in the form of fumigations, ointments, balms, oils, and potions from botany, minerals, or the animal world. Poultices were also preparations used for religious, magico-medicinal (alchemy) purposes, then therapeutic and aesthetic to adorn themselves. If you want a great destination to discover Cosmetics in ancient Egypt, I suggest booking our Luxor day tours. This city is covered with Egyptian monuments. There are many places you can enjoy to discover the greatness of ancient Egypt such as Karnak temple, Luxor temple, Valley of the kings and more.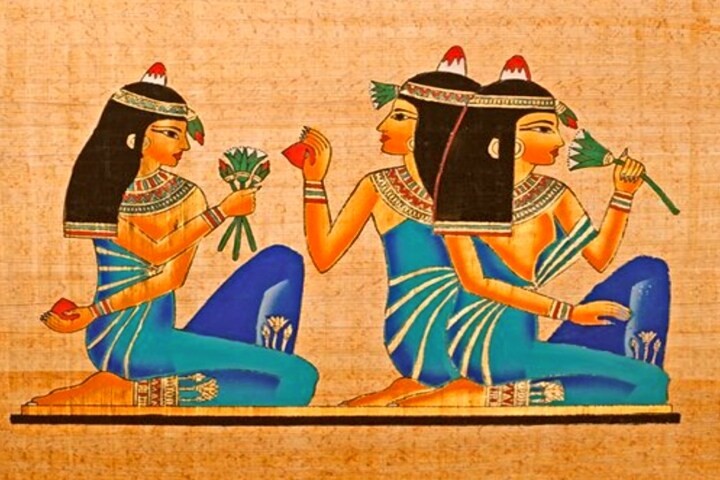 Make up uses in ancient Egypt
An Egyptian myth explains the use of cosmetics: Horus had lost an eye during his fight against his uncle Seth. He then invented make-up to restore the perfection of her beauty: to repair the ravages of time or to make up for the accidents of life. After death, cosmetics were to create a youthful and fertile appearance, deemed essential for rebirth in the afterlife. If you are interested in exploring the life of Hours and his fights, I advise you to book our Aswan day tours. There you can visit the temple of Horus in Edfu. There are many things to do in Aswan such as take a felucca ride tour.
The Egyptian woman was and still is the focus of Egyptian society since ancient times, and the old Egyptian artists cared about portraying her most beautiful. The men of ancient Egypt were dedicated to making their wives happy by providing perfumes and gifts. Since the dawn of history, kohl, essential oils, and powders have been found in tombs. Kohl was extracted from malachite, one of the copper ores of green color, and is spread in Sinai and the eastern desert.
Tombs that you will see in Egypt Luxury tours often contain beauty necessities in a wicker basket: ointment pots, combs, oils, kohl in reed tubes, and a polished bronze mirror.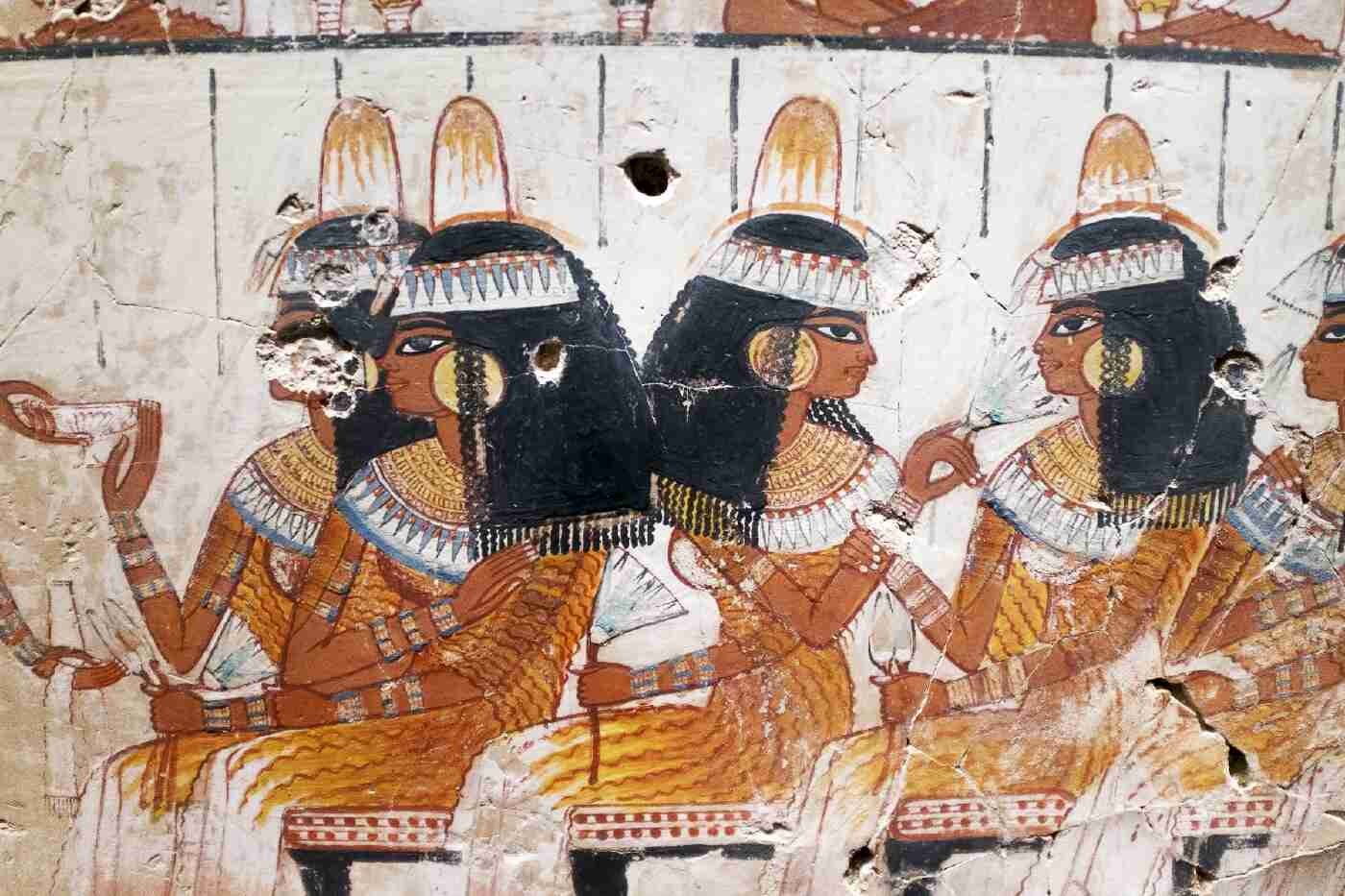 Eyeliner
Males and ladies of both sexes utilized the eye paints galena (a darker ore of lead), Egyptian kohl, and malachite (a green ore of copper). You will see their sculptures and paintings on the walls of the temples with eyeliners during your Egypt Classic tours.
The kohl contained the smoke of black soot from burning frankincense or almond husks. Applying kohl to the eyes protected people from the scorching desert heat and dust.
Blush and lips
The red pigment found in the graves indicates the use of color palettes applied to the cheeks and lips. The dye may have come naturally from iron oxide red, also known as "ochre," mixed with animal fat or vegetable oil. This red pigment was applied to the lips as lipstick, and it is believed that Cleopatra used beetle powder to get the perfect red color.
Perfumes and ointments
The "Kifi" perfume, which contained frankincense, myrrh, mastic, pine resin, cinnamon, cardamom, saffron, juniper, and mint, was the most well-known fragrance in ancient Egypt. It is believed that the Egyptians loved sweet and spicy perfumes with long-lasting scents in a dry and hot climate.
The paintings and inscriptions depict ancient Egyptian men and women wearing perfume cones on their heads during festivals. These cones may contain incense sticks to diffuse the fragrance into their bodies using body heat, but there was no archaeological evidence.
Cosmetic Palettes or Boxes
Calcite jars were used to hold make-up and perfume, and materials such as glass, gold, or semi-precious stones were used to set eye paints and oil. Follow our Your Egypt blogs to discover more about cosmetics in ancient Egypt.