Traditional Egyptian food
Egyptian cuisine is one of the most authentic and delicious dishes in the world, that you must try during your Egypt tours. Combining elements from the Middle East and North Africa, Greece, and France, the Egyptian chef is unique in Egypt's most popular culinary version, reflecting the diverse influences the Egyptians have had throughout their history. Often a twist is added. When you decide to take an Egypt day tours, Egyptian food is very worth the experience, so you should try different kinds of Egyptian food. This topic offers the most famous Egyptian dishes that we recommend visiting during your Egypt travel packages.
What is the most popular Egyptian food?
1.Tamiya
Tamaya is the famous Egyptian word for falafel. Popular fried spices and chickpea pies in the Middle East are instead made with broad beans and lots of green herbs and have a bright green color. It is usually served as a sandwich of tomatoes, cucumbers, tahini (sesame paste sauce), or as a snack or breakfast meal on its own. Cairo is one of the most famous Tamiya, so join our Cairo day tours to enjoy amazing Egyptian dishes and the most famous attractions in Cairo and discover the best places for shopping in Egypt.
2. Koshari
One of the famous Egyptian dishes, Koshary is a must try experience during your Egypt Luxury tours, it has roots in Egypt in the 19th century and is now eaten in food trucks and restaurants nationwide. Koshary ingredients are macaroni, lentils, rice, and tomato sauce, often topped with chickpeas and fried onions. If you like spicy food, koshari is the best choice. What do you think about taking a Cairo city tour all inclusive?
3. Feteer Meshaltet
One of the traditional ancient foods that you will see on every side during your Egypt Classic tours, Fitia is a light, flake-like layered bread made from a piece of dough that is stretched thinly like paper and folded several times. Served with minced beef or cheese, sprinkled with thumbnails (ghee), or sprinkled with powdered sugar. Feteer Meshallat is made in a distinctive way in the countryside, so I advise you to book our Al Fayoum day tours to be entertained with traditional Egyptian dishes and many amazing attractions such as Wadi El Rayan.
4. Kofta and kebab
Grilled lamb (kebab) and seasoned minced meat, such as sausage, are a common Egyptian cuisine for tourists on a budget who wish to taste meat delicacies (kofta). It is often had with a slice of flatbread and a basic salad of chopped tomatoes and cucumbers. Visit Alexandria day tours if you want to have an unforgettable excursion while sampling Egyptian cuisine that is truly unique.
5. Hawawshi
is a popular Egyptian dish that typically consists of bread stuffed with beef mince, onions, and pepper (like flatbread). Hawaii is arguably best recognized as a favorite ingredient in Egyptian comfort food.
Egyptian Desserts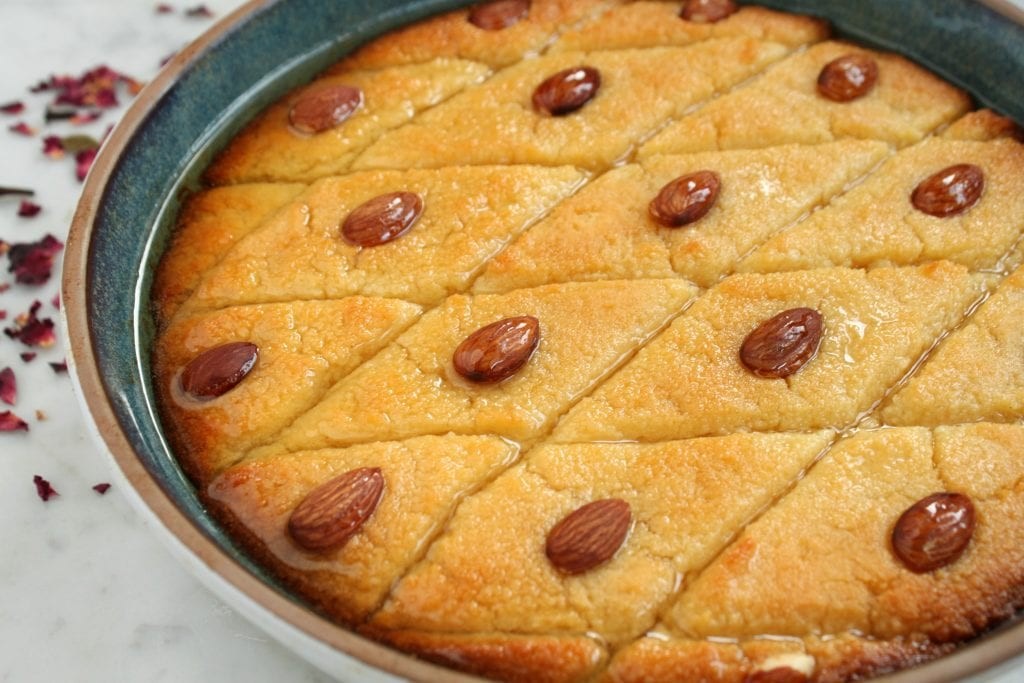 The Egyptian desert is heavily influenced by Middle Eastern cuisine, such as Turkish cuisine. Egyptians love sweets, and desserts after each meal are very common in Egyptian tradition, Also you must add Egyptian Desserts during your Egypt adventure tours.
6- Knafeh
Another dessert I recommend trying during your Egypt spiritual tours, kanafeh is a cake made by rolling and flattening semolina pasta, which resembles an angel's hair, and cooking it over low heat with butter and creamy cheese. When ready, it is soaked in syrup and some peanuts are added.
7-Basbousa
When you decide to take a unique Egypt short break tours, basbousa is a must try experience and you will be amazed by its flavor. It is a delicious dessert that crosses the border and originates from the Ottoman Empire. Discovered in various countries and loved by people all over the world.
The name of the delicacy varies from country to country and is called Basbousa in Egypt. The Egyptian version is usually thin, soaked in sweet syrup, soft on the inside, and covered with almonds and whipped cream.