The Red Pyramid, otherwise called the North Pyramid, is a gigantic old Egyptian pyramid situated in the city of Dahshur, around 40 miles south of Cairo. Worked around the 26th century BC, the Red Pyramid is one of the most seasoned and biggest pyramids in Egypt, and it is viewed as a show-stopper of old Egyptian design.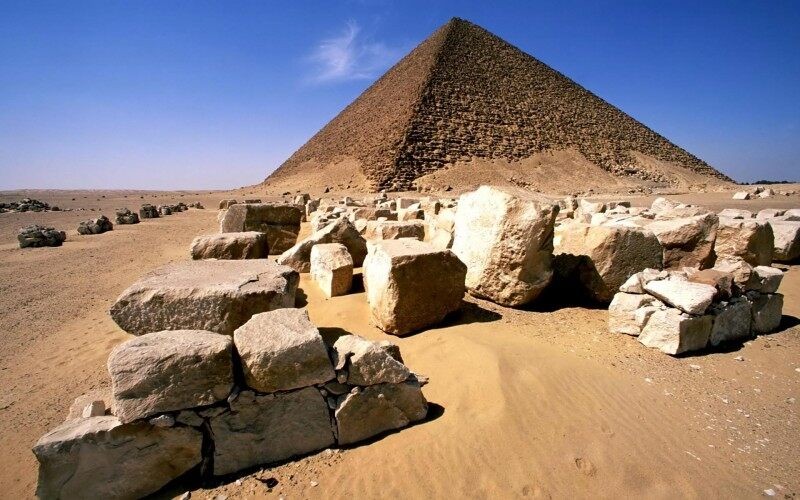 The Red Pyramid gets its name from the rosy tone of its limestone blocks, which were initially canvassed in a layer of cleaned white limestone. The pyramid was worked for Pharaoh Sneferu, the dad of Pharaoh Khufu, who constructed the Incomparable Pyramid at Giza. It is felt that the Red Pyramid was the principal effective effort to construct a genuine smooth-sided pyramid, and it filled in as a model for the overwhelming majority of the pyramids that were implicit the hundreds of years that followed.
Guests to the Red Pyramid can investigate the pyramid's inward construction, which comprises of a progression of halls and chambers that lead to the entombment chamber. The pyramid is available to people in general, and directed visits are accessible for the people who need to find out about its set of experiences and importance.
The Bent Pyramid and the Black Pyramid are just a couple of the other historic pyramids that can be seen at the Dahshur site along with the Red Pyramid. These pyramids are open for visitors to investigate, where they may discover the various building methods and supplies that were employed.
In conclusion, everybody interested in the history and architecture of ancient Egypt should visit the Red Pyramid. It provides a rare window into the world of the Pharaohs thanks to its amazing size and well-preserved construction.