Questionable relationships and Akhenaten's gay lover?
Before the fifth year of his rule, Akhenaten was referred to as Amenhotep IV. He was an Eighteenth Dynasty pharaoh who governed Egypt for 17 years until passing away, most likely in 1336 BC or 1334 BC. He is renowned for giving up the diversity of old Egyptian gods and establishing a new worship focused on the Aten, occasionally referred to as a monotheistic or henotheistic religion. In contrast to the stars, Aton is shown in early writings with the sun. Later, the official language stopped referring to Aten as a god, elevating him to the rank of solar deity rather than merely a god.
The attempt by Akhenaten to break from conventional religion was ultimately unsuccessful. Standard religious practice was gradually resumed after his death. After a few years, a few kings from the Eighteenth Dynasty who lacked clear succession rights founded a new dynasty. They demonized Akhenaten and his successors, referring to them as "the enemy" in written documents.
There is doubt about the relationship between Akhenaten and his brother (Smenkare). Akhenaten's love for Smenkhkare and his attachment to him was out of the ordinary, so he calls him a feminist title from his wife's titles, which is (the extraordinary beauty of Aten), and he was not ashamed to call him (his beloved). While Akhenaten is seated on the throne, a new pharaoh appears, further confusing matters. This co-regent was who?
Two kings are seen reclining on a small stele, or stone monument, from this period constructed for a military leader named Pase. One encircles his fellow pharaoh, who is turning to tenderly stroke the other's chin. Egyptologists in the 1920s and afterward were persuaded that this one stone proved Akhenaten was homosexual regardless of the number of children he had since they are both shown as kings.
Still, Smenkare was likely the half-brother or son of Akhenaten. The most likely candidate for Pharaoh Smenkhkare was his well-known wife, Nefertiti. And some even suggested that Smenkare was the pen name of Nefertiti or Kiya and, thus, one of Akhenaten's wives.
Is it inherited in the family?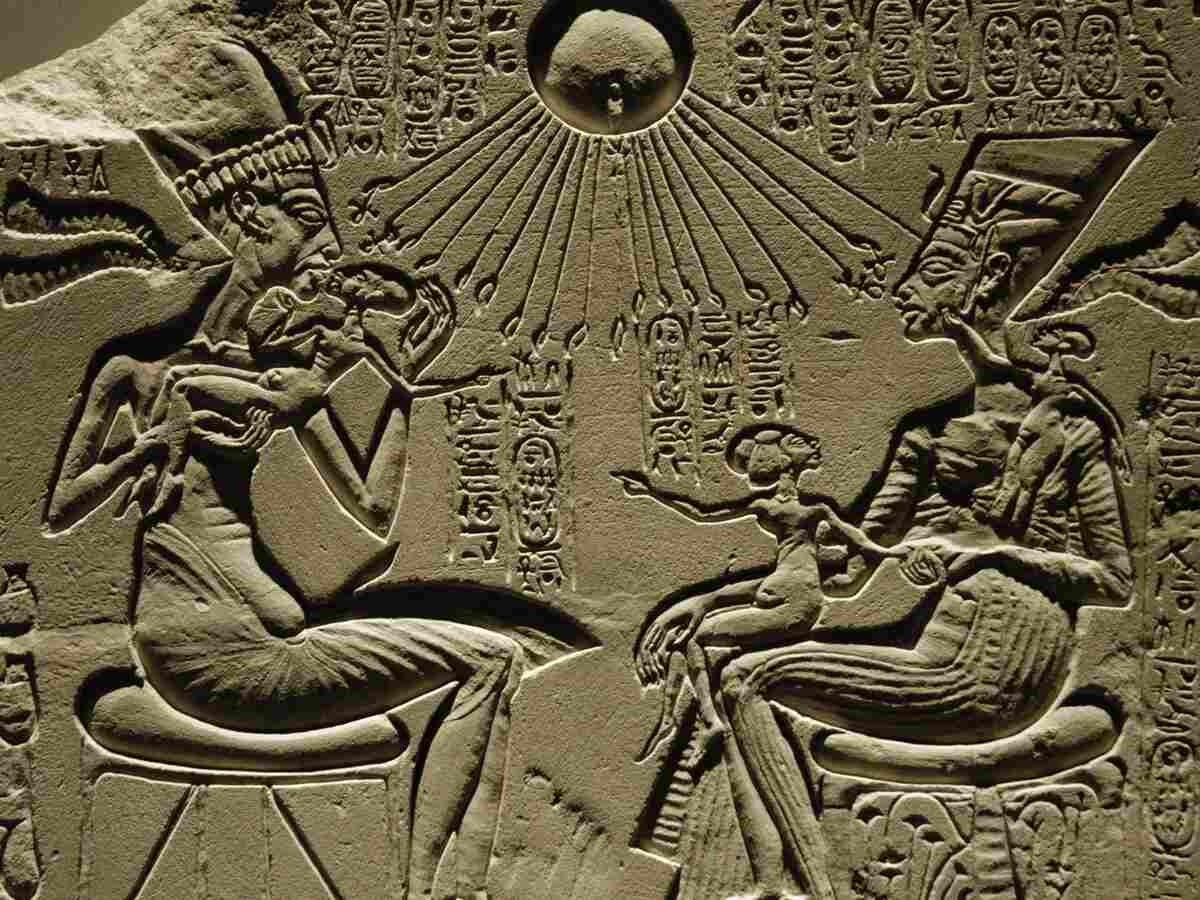 The Marfan Syndrome Theory. Certain Egyptologists seriously considered Alwyn L. Burridge's claim that Akhenaten had Marfan syndrome due to the peculiar Amarna style, particularly the carving. The signs of the disease include, among other things, slender bones, a long face, an extended head, spidery fingers, and a broad pelvis, which are characteristics of the pharaoh and his family.
Akhenaten wasn't the most manhood pharaoh; His form was quite feminine. According to Dr. Irwin Braverman, the feminine appearance resulted from a genetic abnormality that led to the pharaoh's body converting more male hormones to female hormones than it should have. Additionally, Akhenaten's head was deformed due to a disorder in which the skull bones merge at a young age. The king of Egypt had a heterosexual appearance. He was manly, prolific, and produced six children despite having a feminine body with broad hips and breasts, "explained Braverman.