Egypt's pantheon, a group of gods and goddesses, emerged along the banks of the Nile (Wandering the river valley, the first nomadic Egyptians must have feared the unpredictable power of nature the violent forces of thunder, lightning, and storms. These and the desolate desert became the archetypes for the first gods and goddesses. The early frightening gods of nature changed as Egypt's civilization changed from nomadic groups into farming settlements. Settlements grew into cities, and Egypt prospered. The gods remained powerful, but they became benevolent and kindly and developed human forms with superhuman powers. The gods and goddesses developed personalities: they fell in love, they were jealous, they were angry, and they felt despair. Mythology tells us they lived much like the humans who worshipped them.

Living close to nature, the Egyptians recognized the powerful traits of animals the strength of the bull, and the fierceness of the lion and wanted to gain the same power for themselves. The powers and essence of an animal seemed to magically transfer to some of the gods, resulting in many ancient Egyptian gods (such as Bastiat, Anubis, Horus, and Tohth) appearing with the heads of animals and the bodies of humans.
The mystery of death and the possibility of rebirth in the hereafter captivated the Egyptians more than any other ancient civilisation. With the aid of the gods, they could have even greater lives in the afterlife if they were content in this one. There was always the chance of finding happiness by resurrection in the hereafter if their lives weren't going so well. Even gods and goddesses with separate identities frequently mix and share qualities, signs, and tasks with other deities, making ancient Egyptian gods complicated by any measure. Their personalities frequently change and merge with those of other deities (see Isis and Hathor). In the lengthy history of Egypt, several new and even foreign deities have entered the pantheon. There seemed to be room for everyone and rarely was one discarded.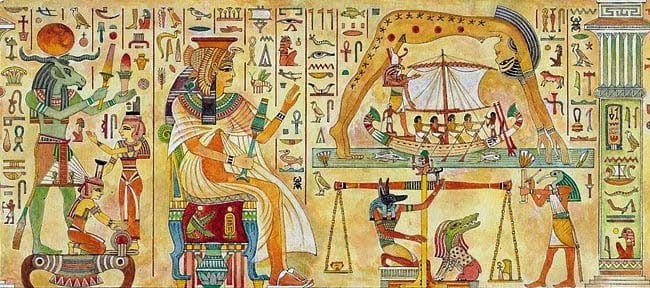 The one exception to ancient Egypt's religious tolerance was Akhnaten the heretic king. He changed Egypt's religion from the worship of many gods (polytheism) to the worship of one god (monotheism), the Atun. The change lasted only about 17 years, and then the religion reverted to the worship of many gods. Egyptian tomb and temple paintings show us that power was in the hands of the gods and the king, who was a divine being (a god on Earth) and whose job it was to serve as the messenger between the gods and the people