HORUS'S FOUR SONS Horus, the falcon-headed deity, was reported to have four sons: Mesti, who had a human head; Duamutef, who had a jackal head; Qebsenef, who had a falcon head; and Hapi, who had a baboon head. One of the mummy's internal organs was under the care of each of the four sons (stomach, liver, intestines, and kidneys).
Each lid on the limestone jars containing the organs was fashioned after the head of one of the boys. These canopic jars were mentioned in the Greek myth of Canopus, the Spartan king Menelaus's pilot who was buried in Egypt. He allegedly received adoration in the shape of a footed jar. The internal organs were wrapped and then put in the canopic jars. The liquid of the children of Horus, also known as dissolved natron, was poured over the organs.
The jars were then sealed and put in a compact, ornamented chest that had four compartments one for per jar that was adorned. A magical chant was sung at this moment to enlist the assistance of the four sons of Horus: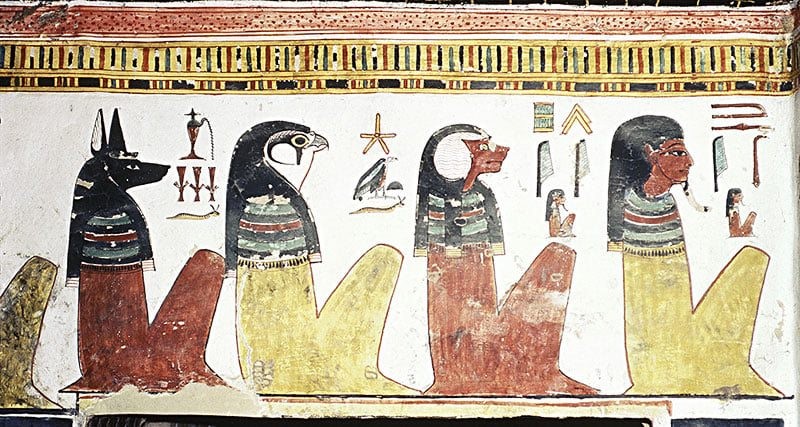 I am Messi, your son Osiris, says Messi. I've come here to defend you. I bring about thine home's The internal organs of the deceased were meant to be guarded by four of Horus' sons. The mummy had these amulets stitched on it as added defence. By the order of Ptah, by the order of Re himself, thrive, to be strong. I am Hapi, your son Osiris, Hapi says. I've come here to defend you. I bind for you your head and your limbs while slaying your adversaries underneath you. Your head is mine to keep forever. I am thy son Horus, adoring thee, declares Duamutef. I'm here to exact revenge on my father, Osiris. I won't allow him to destroy you. I lay it at thine feet now and forever. I am your son Osiris, claims Qebsenef. I've come so I can defend you. I gather your bones, gather your limbs, and deliver your heart to you. I set it down on its position in your body. I make thine home prosperous.
The Four Sons of Horus are described in the Pyramid Texts as the King's allies who help him ascend to the sky, but in the New Kingdom, they take on the role of guards of the mummy's internal organs.