FOOD OF THE GODS The many varied cuisines deemed deserving of the gods are shown in paintings and inscriptions on the walls of tombs and temples. Amun-Re (when he manifested as a fertility deity) favoured vegetable and fresh flower gifts, according to carvings on the walls of the Karnak Temple. Hathor was given wine to calm the aggressive part of her nature and because she was the goddess of music, love, and dancing.
Milk was given to Horus the kid. Menus that may have included included roasts of cattle and gazelle, ducks, game birds, various vegetables and fruits, bread, cake, beer, wine, and milk were served along with these individualised offerings. The concept of "meal of the gods" involved a trade. Via the priests, the pharaoh offered particular meals that were believed to appease the gods. The food sacrifice was one among the daily rites carried out to maintain Egypt's MAAT, or divine order.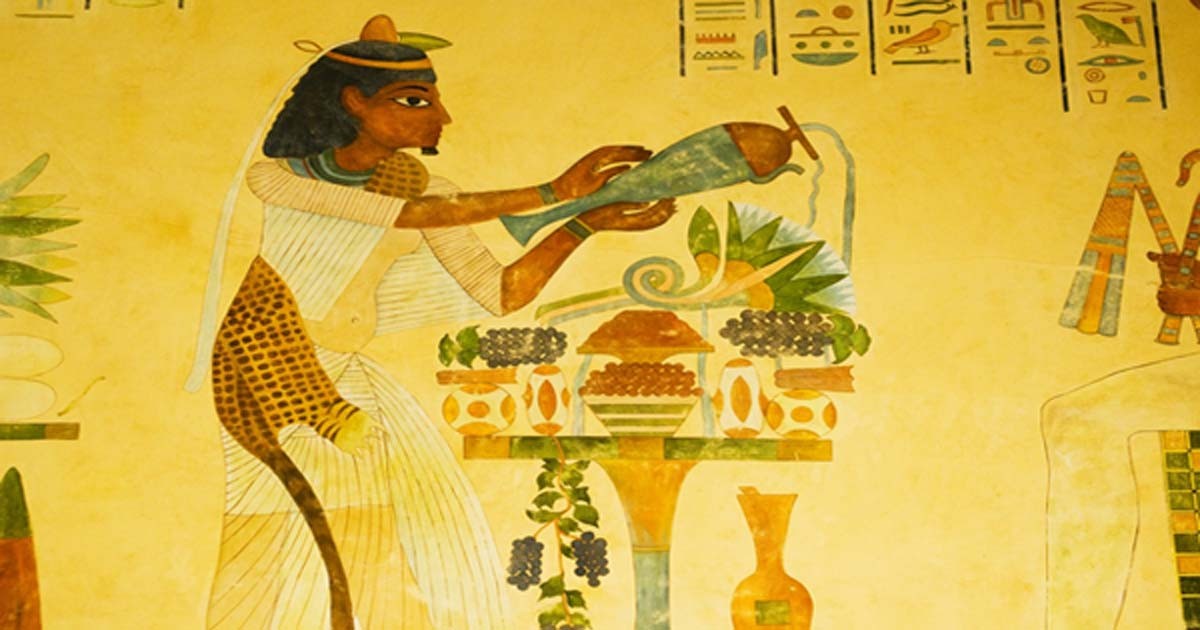 Workers at the temple started preparing for the daily offering as early as possible. As there could be no mistakes, every stage of the preparation was rigorously scrutinised. The kitchens cooked vegetables and fruits, grilled cattle, wild animals, and ducks, made fresh bread and pastries in a variety of forms, and brewed the finest beer.
Each group of food had to be cleansed with water, natron, and burning incense before the gods could be offered it. In front of the god's altar, food carriers placed platters that were overflowing with all different kinds of food on offering tables. The cult statue of the deity was served food from each tray when the shrine was opened, which was then handed to it on a special serving dish. Except for the loaves of bread, which remained on the sacrifice table until the next morning when the ritual would be repeated, the food was afterwards divided among the priests. Fish was the only type of food that the gods were never given. There are two explanations for why fish have not been recognised as a food of the gods.
One theory holds that fish were revered to the gods: Abu and Ant, a pair of fish, swam on either side of the sun god Re's boat as it sailed through the Underworld to fend off bad spirits. Another theory holds that the deity Osiris' phallus was thrown into the Nile and consumed by fish when he was chopped to pieces.