FAMILY OF THE GOD (Triads)
In ancient Egypt, families of gods were known as triads and gods frequently appeared in groups of three. All the major worship sites in Egypt had these trinities of gods, which typically consisted of a father, a mother, and their kid. Around the cult centres, enormous temple complexes were built, and the priests rose to great power and fortune.
The following were the major cult centres:

Horus, his wife Hathor, and their kid Harsomtus lived in Triad City (Harpa there: Horus the child) Khnum's spouses were Anukis, Elephantine, Memphis, Memphis' son Nefertum, Ptah, Sekhmet, and Thebes' son Khonsu. Amun's spouses were Mut and Thebes. The EFDU Under the Ptolemaic era, Triad Edfu, which is situated close to Thebes, developed into a significant worship centre and the residence of the Edfu triad (332 - 32 B.C) The main deity of Memphis was Horus, the falcon god, and inscriptions carved on the temple walls provide a full account of his mythological history. Horus Ptah is frequently shown in mummiform with a tight-fitting hat and clutching a staff of authority. defeating Set, his adversary. The temple inscriptions also describe Hathor's voyage from her worship centre in Dendera to Edfu, where Horus and Hathor were married. Hathor was the wife or consort of Horus.
By sorcery, their son Harsomtus, Horus the younger, was born simultaneously in the birth residences in Edfu and Dendera. Harsomtus was a human, a falcon, and a reincarnation of the deceased monarch; one of his titles was "Son of the Ground." Hathor is the cow-headed goddess of love and song. In Aswan, there is an island known as the Elephantine Triad. A village named Abdu served as the trinity's worship centre for Khnum, Anukis, and Satis (modern Syene). The main deity was Khnum, who was shown as having a white crown with ram's horns and a solar disc.
He occasionally appeared with a jug on his head as a sign of unity or construction. His name may have originally referred to the union of the sun and moon in astronomy. Khnum is a function Object or creator of mankind. He created the first egg, which gave rise to the sun, according to his priests. On the potter's wheel, men are also claimed to have been created by Khnum. The goddess of cataracts, or the huge boulders in the river at Aswan, was known as his consort or wife, Anukis. They also occasionally depicted Satis, who was the goddess of the flood or inundation, as Khnum's companion or wife.
The Triad in Memphis Memphis, Egypt's Old Kingdom capital (2686 - 2181 B.C), was renowned for its formidable defences. The temples to Ptah were frequently referred to as his southern wall, and it was known as the city of walls. Ptah was an artist. On the potter's wheel, he built the universe and humanity in accordance with Thoth's instructions. He is shown in mummiform form and is donning a skullcap. The lioness-headed goddess Sekhmet, who also served as Re's adversary, is his spouse or consort. Sekhmet was a goddess of medicine and healing in her kinder form. Nefertum, their son, was referred to as the "god of the blue lotus, the flower" because of this association.
62 FAMILIES OF GODS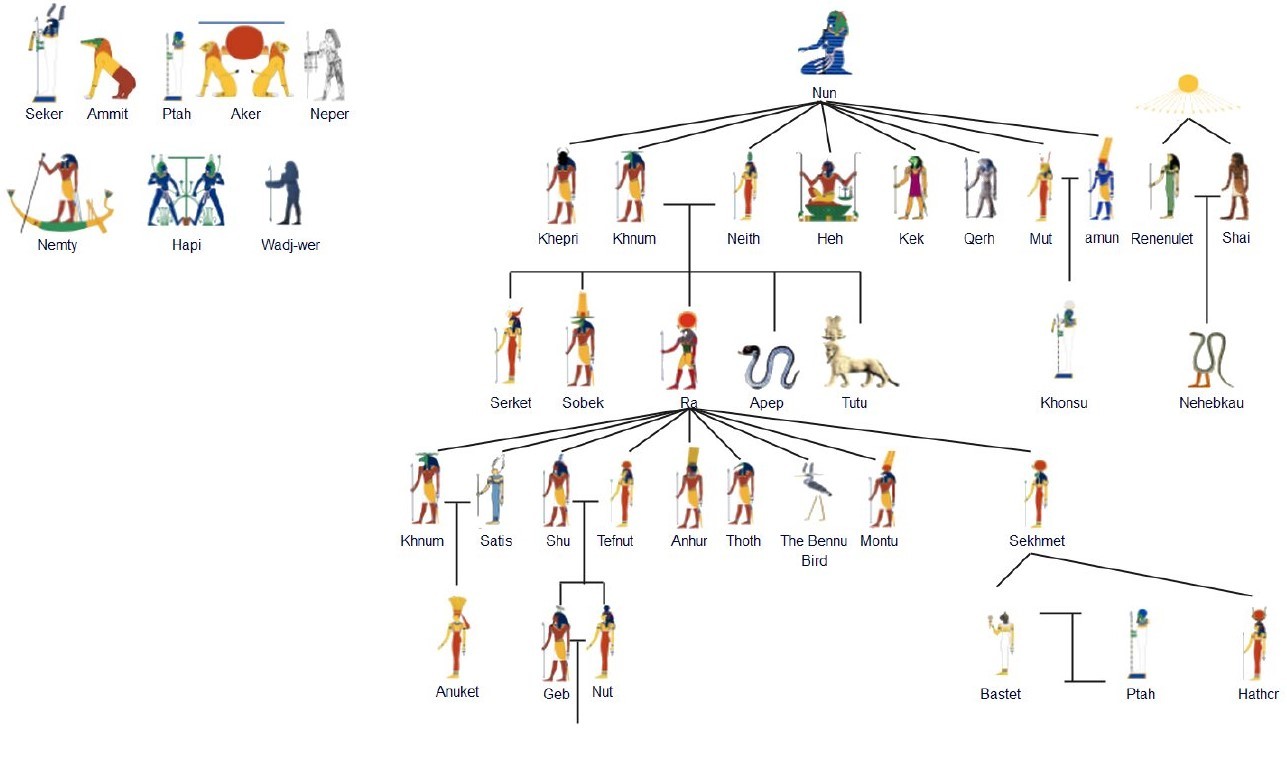 Theban Triad. Amun, whose name means "the hidden one", was the chief deity of Thebes. Although he may take many different forms, he was frequently shown with a was sceptre and an Ankh the symbols of strength and life while donning a double feather crown. Amun had a human body and a frog head when he assumed the form of one of the primordial gods amid the seas of chaos. Mut, whose name means mother, was Amun's principal consort or wife. She was occasionally named World Mother, She Who Brings Forth into Creation. Mut was either shown as a lioness-headed goddess or as a lady wearing the double crown and carrying a papyrus sceptre.
The main god of Memphis, Ptah, is frequently shown in mummiform wearing a tight-fitting hat and clutching a staff of power. (Image courtesy of Pat Remler)
She was connected to Sekhmet and Bastet when she assumed this persona. Their son, the moon deity Khonsu, made up the third person in the trio. Interestingly, Osiris, Isis, and their son Horus, the most revered and powerful trio, did not have a specific cult centre where they were worshipped together. Instead, Osiris at Abydos, Isis at Philae, and Horus at Edfu each had their own religious centre.