CAVERNS IN THE BOOK is a funerary book from the Nineteenth Dynasty that describes in graphic detail the dangers the sun god faced while travelling through the 12 hours of the night.
The setting for each of the Book of Caverns' six volumes is a cave or cavern, where RE is lauded as the source of life and light and the slayer of foes. The Book of Caverns contrasts Re's treatment of his foes with the benefits of benevolence. Re is descending into the Duat as the novel begins, where he runs across a number of gods and goddesses. Each is surrounded by an oval-shaped enclosure.
Re yells the guardian deities' hidden names as soon as he enters the First Tunnel in hopes that they would allow him to pass unharmed. Re arrives in the Second Cavern feeling confident and assertive, where he punishes his adversaries by hanging them from their feet or ripping their hearts from their bodies. When Re enters the Third Cavern, AKER, a two-headed lion deity, and Osiris, the god of the dead, arrive and meet him. Osiris has an erect phallus, showing that the sun's light has revived him. As the boat of the sun god passes through the Fourth Tunnel, the motif of kindness and light is repeated.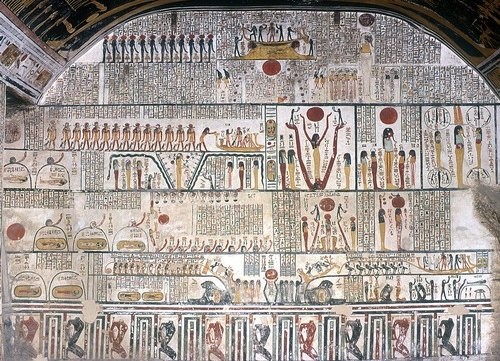 The Fifth Cavern's central topic is punishment. Body pieces and beheaded bodies are piled high in enormous cauldrons. I annihilate my foes, he warns. You'll remain in your caves. My cauldrons will be heated by your fires. Re encounters The Hidden One, a manifestation of NUT, the sky goddess, as he passes by the Fifth Cavern. Solar discs and deceased people's souls who have come back to life are all around her. The last of Re's foes are slain upon entering the Sixth Cavern. The setting shifts as the mighty deity gets ready for his resurrection and the dawn of a new day. Re initially manifests as KHEPRI the CARAB BEETLE at dawn, moving the sun disc in that direction. The sun god is reborn as the first light breaks through the clouds and begins his daily ascent across the sky.
The tomb of Ramses VI in the VALLEY OF THE KINGS has a full copy of the Book of Caverns.