The temples of Abu Simbel are a symbol of Egypt. Although less iconic than the pyramids of Giza, Abu Simbel is a must-see when visiting the region of Ancient Egypt to discover its treasures.
I traveled to Abu Simbel to visit these temples, and in this article, I return to what you need to know to get there, on your own or an excursion. Due to its isolation, Abu Simbel is indeed a relatively difficult site to access, and it is important to prepare well for your visit.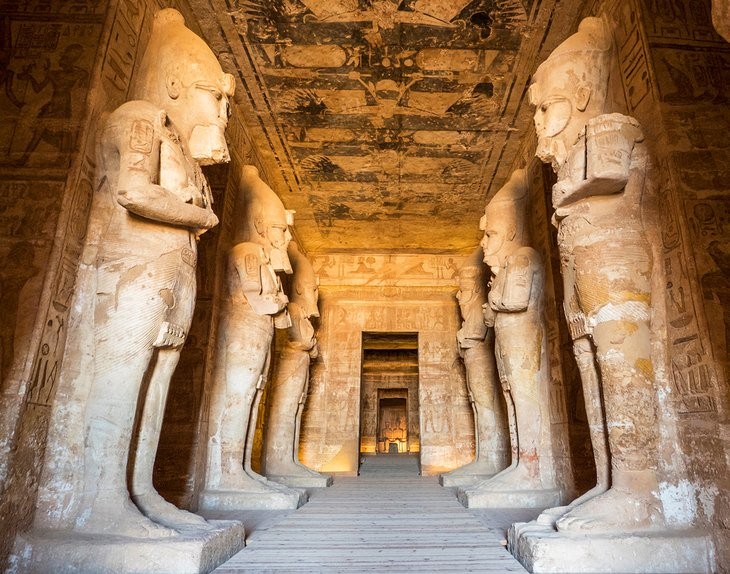 First of all, some information about these temples, to fully understand what we are talking about. I would like to point out right away that we are talking about the temples of Abu Simbel, in the plural, because there are two of them:
the Great Temple is the most emblematic and the one that most illustrates this site. It is dedicated to several gods including Amon, but also the Ramses dynasty. This temple was completed under Ramses II, still called Ramses the Great.
The Small Temple is a hundred meters from the Grand Temple. This is dedicated to the main wife of Pharaoh Ramses II: Nefertari, as well as to the goddess Hathor (goddess of love and beauty).
These temples are located on the mountainside and date from the 13th BC. Their construction took about twenty years.
Legs of one of the statues of the temple of Abu Simbel
Legs of one of the statues of the Great Temple of Abu Simbel
They aimed to impress Egypt's southern neighbors to strengthen the status of the Egyptian religion in the region. Hence the installation of the enormous statues in front of the "Great Temple", some twenty meters high, is particularly well preserved.
Another peculiarity of this temple of Abu Simbel, and invisible if we do not know it, is that it has been moved. Indeed, in the 1960s, during the construction of the Aswan Dam on the Nile, this temple as well as that of Philae, were moved so as not to be buried by the rising waters. It was thus dismantled piece by piece to be rebuilt identically on the shores of Lake Nasser, and in the same alignment with the stars. These temples have been listed as a UNESCO World Heritage Site since 1979, and are part of the Nubian Monuments.
Check out Aswan Day Tours and Excurrsions
How do I get to Abu Simbel?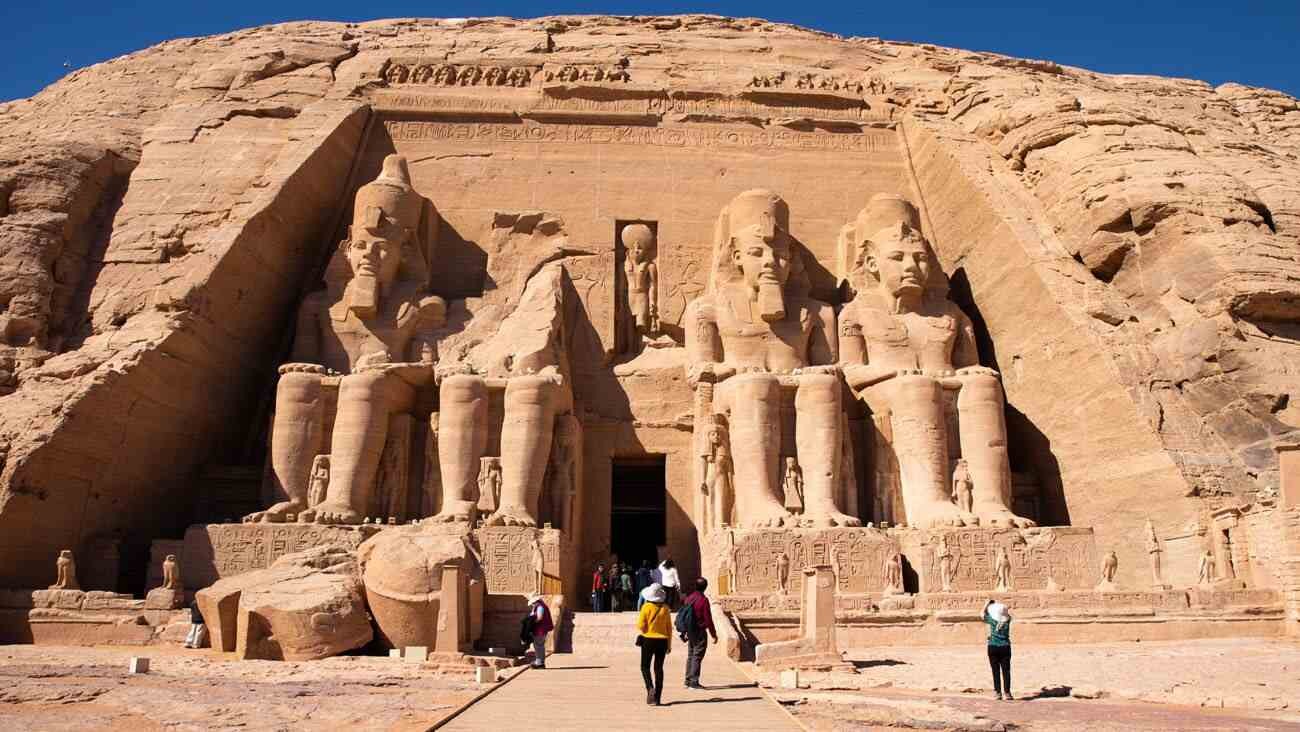 There are several alternatives for getting to Abu Simbel, the most common being by road. The other two are by plane (there is a small airport a few kilometers from the site), or by boat (as part of a Lake Nasser cruise). I mention these alternatives to get to Abu Simbel.
Constraints
Abu Simbel is about a 3-hour drive from Aswan. This site is 300 km, in the direction of southern Egypt, on the border with Sudan.
For a long time, this road could not be taken as you wanted, let alone in his car. The journeys were in fact under military escort, with two departures per day from Aswan, at a fixed time (4 am or 11 am). Having made my trip to Egypt in 2009, I experienced this rather restrictive convoy system.
Since the end of 2016, the authorities have still carried out the necessary checks but are more tolerant. You have to go through the checkpoint at the exit of Aswan, on the road to Abu Simbel, to obtain the necessary permission. So there is no longer any notion of a convoy, and even less a departure at a fixed time!
Accompanied by a driver
Visiting the Little Temple of Abu Simbel
Small Temple of Abu Simbel
Nevertheless, the system of buses, minibusses, or at least a car with a private driver, is still very widespread. To find a means of transport of this type, two alternatives:
go on a day trip. The driver picks you up directly from your hotel or cruise ship. This excursion allows you to benefit from the presence of an Egyptologist and French-speaking guide. This type of service includes the entrance ticket for the tour and is done on board an air-conditioned bus, which is essential in this region. go on a day trip, via a service similar to the one I just mentioned, but with a private driver this time (like this one). No bus, therefore, but an air-conditioned car with a driver's guide. check with your hotel in Aswan which will redirect you to a local transporter (private or minibus). For this alternative, be careful to set the price well beforehand. For my part, I went to Abu Simbel as part of a cruise on the Nile between Luxor and Aswan. The visit to the temples of Abu Simbel was thus part of the overall service, and we got there by air-conditioned bus, accompanied by our guide.
2 days in Abu Simbel : You have an option it is indeed possible to go to Abu Simbel for over two days. There are many advantages. We take more time to visit the temples, and more generally on-site in Abu Simbel. we don't have that impression of a long round trip during the day (almost 6 hours of driving in all), and above all, we enjoy the sound and light show at night, dedicated to Ancient Egypt.
By plane
The situation of the temples of Abu Simbel in Egypt
On the tourist side, there is an airport which is located not far from the Abu Simbel site. This is served in particular by the company EgyptAir, from Aswan. The flight lasts 45 minutes, and it is, therefore, possible to make the round trip during the day.
To get to the Abu Simbel temple site, you just need to take a taxi.
Visiting the temples of Abu Simbel
Once there, if you have not gone through a tour operator, you must obtain a ticket to access the temples.
The ticket allows access to the 2 temples, but be careful, photos are prohibited inside. And whether with or without flash!
Also, you can attend a sound and light show in Abu Simbel. We are far enough from the historic site of the site, but it allows those who spend a night nearby to enjoy this moment.
If you are planning to visit Abu Simbel during your Egypt tour, I wish you a good visit. This site is really beautiful!