ANIMAL GODS Animals played a big part in the mythology and religion of ancient Egypt. Some animals were associated with or sacred to the gods, but animals themselves were not worshipped. While the falcon was the symbol of Horus and the cat was the symbol of Bastet, for example, the Egyptians did not worship every falcon and cat or believe these animals were gods. Some animals sacred to the gods were raised on farms specifically to be killed and mummified and sold to people who made pilgrimages to the temples. The faithful could purchase a mummified cat, ibis, or falcon and present it to the god as a votive offering in the hope that their prayers would be answered.
Some animals, however, were designated as the living embodiments of a god. The Egyptians believed god could inhabit the body of a particular falcon, and that falcon would be considered a living cult List of Animals and the Gods to Which They Are Sacred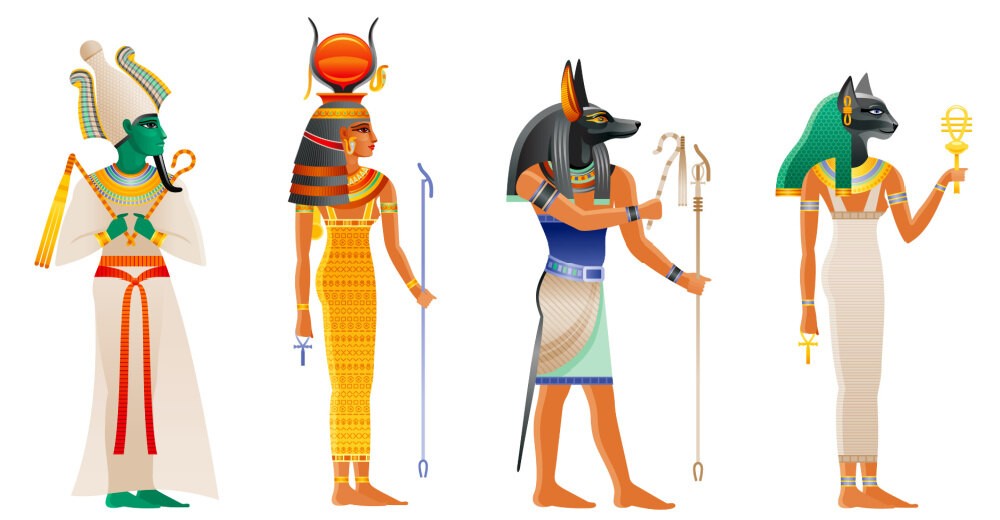 | | |
| --- | --- |
| Baboon | Thoth, Hapi |
| Beetle | Khepri |
| Bull | Apis, Buchis, and Mnevis |
| Cat | Bastet |
| Cobra | Buto (see also snake) |
| Cow | Hathor, Isis personified as Hathor and Bat |
| Crocodile | Sobek |
| Dog/Jackal | Anubis, Web-was-wet, son of Horus, Thoth portrayed as a jackal, Duamutef Son of Horus |
| Dolphin | Hat-merit |
| Donkey | Set when he was defeated by Horus |
| Falcon | Horus and Horus as Harmachis, Haroeris, Harsaphes, Harsiesis, Hartomes, Horasematawy, Hormerti, Horus-Behdety, Khonsu, Re-Horakhty, Qebesenef son of Horus |
| Frog | Nun, Heket, Kek, and Amun in the Ogdoad |
| Goose | Geb the symbol of Amun, and also called great cackler is said to have laid an egg from which the world came. |
| Hippopotamus | Tauret, Set when he is defeated by Horus |
| Ibis | Aah, Thoth |
| Lioness | Astarte, Sekhmet, Mut, and Tefnut |
| Lynx | Market |
| Pig | Set when he is defeated by Horus |
| Ram | Amun, Ba-neb-djet, Bata, Khnum |
| Scorpion | Selket |
| Snake | Buto/Wadjet, Meretseger, Renenutet |
| Sow | Nut |
| Swallow or Kite | Isis and Nephthys |
| Vulture | Nekhbet |
Experience those wonders of Egypt like never before with Your Egypt Tours! We are your gateway to an unforgettable journey through this ancient land. Our expertly crafted tour packages cater to all types of travelers, offering a wide range of options to suit your preferences and budget. Whether you're seeking a luxurious getaway, a family adventure, a romantic honeymoon, or an immersive cultural experience, we have the perfect package for you.
What sets us apart is our dedication to personalized service. We understand that every traveler is unique, and we go the extra mile to tailor your Egypt tour according to your specific needs and interests. From designing a flexible itinerary to selecting top-notch accommodations and providing private transportation, we ensure a seamless and enriching experience from start to finish.